Academic Support Center
The Louisville Seminary Academic Support Center (ASC) assists students, faculty and staff with the various aspects of academic writing, critical analysis, study skills, and reading. We can also assist with professional papers, resumes, and reports. Throughout the semester, ASC conducts workshops including ones on organization, documentation styles, plagiarism, senior Statements of Faith, SIEs and the denominational ordination exams. The Center also works specifically with students whose first language is not English and with students who have physical or learning differences.
Hours and Locations
The ASC is located on the first floor of Schlegel Hall.

Summer Hours (June 13 - July 31): (drop-in)
Monday: 10:00 a.m. - 3:00 p.m.
Tuesday: 10:00 a.m. - 4:00 p.m.

Hours: (drop-in)
Monday: 9:30 a.m. - 8:30 p.m.
Tuesday: 9:30 a.m. - 4:00 p.m.
Wednesday: 9:30 a.m. - 3:00 p.m.
Thursday: 3:30 - 8:30 p.m.
Friday: 9:30 a.m. - 3:00 p.m.

Or schedule an appointment:
Beth: calendly.com/bherrintonhodge
Sherry: calendly.com/sarconti

Phone: 895-3411 or ext. 384
Writing Labs
Click here for the Online Writing Lab.

Writing Tables are offered on Monday afternoons through the summer, 3:00-5:00 p.m. Need to brush up on reading, writing or critical thinking skills? Need to strengthen your studying or writing process? Join us in Schlegel, Room 206 (Second floor break-out room) for Writing Table workshops. Come to one or all of the Writing Tables, depending on your summer schedule and your particular writing needs.

July 2: Types and purposes of seminary writing July 9: Three parts of a paper: introduction, body, conclusion
July 16: Unpacking a writing prompt/assignment, planning your paper
July 23: Developing thesis statements and introductions
July 30: Summarizing and paraphrasing
Aug 6: Direct and indirect quotes, Three-I's
Aug 13: Citations: Chicago Manual of Style (CMS) and Turabian
Aug 20: Citations: American Psychological Association style (APA)
Aug 27: Time management and planning your semester

Writing tables will be offered in the days before classes resume:

August 23, 29 and 30: 10 a.m. to noon
September 3 and 4: 10 a.m. to noon
September 5, 12, 19 and 26: 3 p.m. to 5 p.m.
Beth Herrinton-Hodge
Director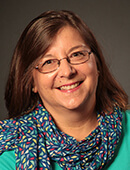 Beth is a writer, pastor, educator and editor. She came to Louisville Seminary from the Shelby County Adult Education Center and JCTC-Shelby where she taught developmental English and Reading. She is a contract curriculum writer for the Presbyterian Publishing Corp. (PPC). She is also a Teaching Elder (Minister) in the Presbyterian Church (USA).

Beth holds an M.Div. from San Francisco Theological Seminary, an M.A. in Christian Education, and a B.A. from Ohio University. She lives in Shelbyville with her husband, two teenage daughters and three black rescue dogs.

​Email Beth.
Sherry Arconti
Tutor
Sherry grew up in the Midwest, spending much of her childhood sliding around in the pews of the Oak Hill Presbyterian Church and then graduating from Indiana Wesleyan University with a double major in English and Creative Writing. With more than 17 years of college classroom teaching experience, Sherry started teaching as a graduate student at Ohio University and has taught English and writing courses for 10 years at the University of Louisville and at Jefferson Community College. She is currently a professional writer.

​Email Sherry.