Sung Soo Hong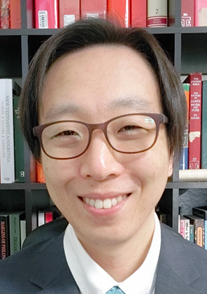 Sung Soo Hong is a Visiting Assistant Professor of New Testament at Louisville Presbyterian Theological Seminary. His professorship is through a Postdoctoral Fellowship he received from the Louisville Institute, a Lilly Endowment Inc.-funded program which supports the formation of ecclesiastically engaged academics for teaching and scholarship that serves the church and its ministries.

Hong will complete his Ph.D. in Religion in the Ancient Mediterranean (New Testament, Christian Origins, and Ancient Christianity) at the University of Texas at Austin, where he also received a Master of Arts degree. He earned a Master of Arts degree in Religion from Yale Divinity School, Master of Divinity degree from Drew Theological School, and a Bachelor of Arts degree from Korea University.

While at Louisville Seminary, Hong will develop his research project that he introduced in his dissertation, "Epistolary Psychagogy in the Letter of James." In his dissertation, Hong examines how the author of James conveys the central message of the writing, "Sharing is caring," by drawing on ancient letter writing conventions and by employing some pedagogical techniques and ideas in Hellenistic moral philosophies. Hong analyzes the ways in which the author guides the audience to pursue moral perfection both on the individual level and on the communal level. In addition, Hong will continue his research on Hellenistic Jewish wisdom texts and early Christian martyrdom literature.
"Teaching has been my passion, and I have wanted to teach at a seminary. I see that the Louisville Seminary community actually cares about its members and seeks justice and inclusion. I am thrilled to be part of it!"
-Sung Soo Hong