Library Information
Staff
Boby Bilz (Administrative Coordinator) : bbilz@lpts.edu

Carolyn Cardwell (Instructional Technology Administrator) : ccardwell@lpts.edu

Matthew Collins (Director of the Library Associate Professor of Bibliography and Research) : mcollins@lpts.edu

Angela G. Morris (Associate Director of the Library) : amorris@lpts.edu

Angeles Ramos-Ankrum (Technical Services Librarian) : aankrum@lpts.edu

Circulation Desk, Email : circdesk@lpts.edu Phone: 502.992.9398
2019 Summer Schedule
| date(s) | day(s) | time |
| --- | --- | --- |
| May 28 - August 12 | Monday, Wednesday | 8:30 a.m. - 5:00 p.m. |
| | Tuesday, Thursday | 8:30 a.m. - 8:00 p.m. |
| | Friday - Sunday | CLOSED |
| July 04 | Thursday | CLOSED |
| August 13 - Sept. 01 | Monday, Wednesday, Friday | 8:00 a.m. - 5:00 p.m. |
| | Tuesday, Thursday | 8:30 a.m. - 8:00 p.m. |
| | Saturday, Sunday | CLOSED |
| September 02 | Labor Day | CLOSED |
| September 3 - 4 | Tuesday, Wednesday | 8:00 a.m. - 5:00 p.m. |
*Fall semester hours begin september 5th
New in the Library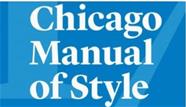 Just added, access to the online version of the new 17th edition of The Chicago Manual of Style . Check out what's new in this edition, especially chapter 14 which focuses on Notes and Bibliography. Learn why the use of Ibid is now discouraged.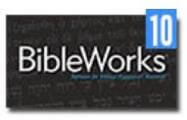 The library has upgraded to version 10 of Bibleworks. Bibleworks is a focused collection of tools and resources designed specifically to assist pastors, seminary students, professors and missionaries in their exegesis of the Biblical text. Available on all computers in the computer lab in the library.

A new addition to the collection of the Ernest Miller White Library. Housed on the Lower Level in a space dedicated to materials that focus on the history and thought of the traditions of the Black Church. To see a list of all materials in that collection go to Morgan and search BCS.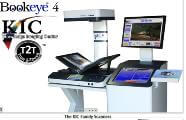 Now available for easy scanning, the BookEye 4 Color Scanner . Save scans to email or a flash drive.
Access to 5 Digital Collections in the Gale Archives Unbound:

A new way to search the E.M.White Library's collection - Morgan on WorldCat Local. Easy searching of the holdings of this library and libraries worldwide.
This digital collection includes African American periodicals, annuals and reports published from 1829-1922 including materials from African American religious organizations and social service agencies. For more information about this collection.

This online resource provides unrivalled access to six essential Oxford editions of the Bible alongside commentary and annotations from study Bibles seamlessly combined with reference material and primary texts.

Online access to a diverse collection of resources designed to aid the minister in preaching, teaching, and study. Access to well known commentary series, dictionaries, and more. Links to blogs, articles, what others are doing in the field of ministry today. Be sure to open the "library" tab to see a list of titles available.
Direct access on the campus network. Off the campus network use your standard username / password login for accessing databases.
Research Tools
Online catalog
Morgan Discover - an updated interface for searching the holdings of the Ernest Miller White Library and other resources that the library subscribes to.

Morgan WCL - Morgan on Worldcat Local Use to search the collection of the E.M.White Library and resources beyond its holdings.
Online journals
Citation Linker
Databases
LibGuides
Library Services
My Account
Sign in here to view the catalogs. For your first sign in, use the set/reset password link to create a password Input your username and newly created password to access information about your account..your username is the 13 digit barcode on your LPTS i.d. Input your username and newly created password to access information about your account. If you have problems accessing your account please contact the circulation desk. Phone: 502-992-9398 or e-mail circdesk@lpts.edu .
InterLibrary Loan (ILL)
Resources not available in the library's collection may be requested from another library through interlibrary loan. Online request forms are accessible through the library catalog (Morgan) or use the link below. A maximum of five titles per day may be requested. This service is limited to Louisville Seminary students and employees. You should allow one to three weeks for your requested items to arrive.
Click here to fill out the request form.
Guides
Copy, Print, Scan
Copying - The library has a copy machine located in the main hallway. Copies are 5 cents each. Color printing and printing front and back are possible. Just ask at the circ. desk.

Printing - Documents sent from computers in the library's computer lab will be sent to the printer in the lobby area. The cost of printing is calculated by software on the computer, go to the circulation desk, pay that amount, and your printing will be sent to the printer for pick up. For color printing, ask at the circ desk. For printing both sides of paper, ask at the circ desk.

Scanning - The copy machine can also scan documents to a .pdf format which can be e-mailed. The Bookeye Scanner can save data to a flash drive or send data to your email.
Reserves
Items listed as "on reserve" in class syllabi will generally be available from the reserve section of the circulation desk at the library. Items listed as "on CAMS" are available online. Please have the name of the professor teaching the class and the title of the item that you need.

To borrow materials on reserve you must have a valid Louisville Seminary ID or library card. Any reserved material borrowed must be checked out to your account, even if you are only using it to make a photocopy.

"Closed" reserves are those that can be used only in the library. Only one closed reserve book may be borrowed at any one time unless special permission is granted by a member of the circulation staff.

"Open" reserves are those that can also be checked out two hours before closing and returned the following day within the first hour of opening. Any reasonable number of open reserve books may be borrowed at one time. Circulation staff will determine what is "reasonable" based on perception of the needs of other patrons.

Reserved materials will not be recalled during the first two-hour loan period, but they may be recalled during a second two-hour loan period if they have been renewed.
About the Library

The steadily growing collections of the Ernest Miller White Library include more than 175,000 bound volumes, almost 12,000 microforms, and around 7,000 audio-visual resources. The library also subscribes to over 530 current periodicals and provides access to a large and increasing number of electronic resources. One of the library's most valuable resources is its talented and service-oriented staff, whose mission is not only to collect and organize this wealth of information but also to help students and others learn how to search intelligently and strategically for the information they need, evaluate that information critically, and use it effectively and ethically.

The wide range of resources available at the library is easily accessed using the online catalog, "Morgan." The catalog also provides information about the holdings of the library at nearby Southern Baptist Theological Seminary, allowing one to search the holdings of both libraries simultaneously. Students have borrowing privileges at both libraries, and the online catalog can be accessed by computers in the library or through the Internet.

In addition to "Morgan," the library provides access to major electronic tools for research in theology and related subjects, including the ATLA Religion Database, the Family and Society Studies Worldwide Database, Old Testament Abstracts, New Testament Abstracts, the Digital Library of Classic Protestant Texts, the works of John Calvin on CD-ROM, the Digital Karl Barth Library, and BibleWorks. Access to many other databases is available through the Internet.

The library participates actively in cooperative programs with other libraries on local, state, and regional levels so that patrons can use an even wider range of resources. Locally, the Kentuckiana Metroversity consortium gives LPTS students and faculty privileges to borrow from more than four million volumes, housed at ten academic libraries in the Louisville area. Statewide, the Kentucky Virtual Library (KYVL) gives students access to many more electronic databases. Regionally, the Theological Education Association of Mid-America (TEAM-A) provides our students and faculty library privileges at four other regional seminaries.

Use of this extensive range of resources is supported by the library's instructional programs. These programs enhance the research and study of our students by educating them further about tools that can meet their information needs in seminary and in ministry. Course-related instruction, instruction in the use of information technology, and database training are designed to help students become increasingly confident and competent managers of information in our technological age.


Mission
1.1 The Library seeks to support the mission of Louisville Seminary by providing its students, faculty, and other employees with:
1.1.1 integrated access to library resources and information technologies that facilitate their activities of teaching, learning, research, and administration and
1.1.2 instruction that enhances their ability to find, evaluate, and use information relevant to their vocational commitments with effectiveness and integrity.
1.2 Within the scope of this support for the mission of Louisville Seminary, the department also seeks to offer resources and instruction to Seminary alums, members of area faith communities, and the local public in support of their study of subjects related to Christian faith and practice.

Principal Objectives
2.1 Identify, acquire, organize, and disseminate all forms of recorded information (print, microform, electronic, and audio-visual) that support the current research, instructional, and administrative programs of the Seminary.
2.2 Acquire also a range of materials representing perspectives and subject matter broader than those represented in the present curriculum and current faculty and student research in order to facilitate study beyond those confines and familiarize patrons with changing patterns of Christian reflection.
2.3 Provide electronic and print search tools for identifying resources relevant to the research, teaching, and learning of library patrons.
2.4 Provide timely access to, and easy retrieval of, library resources through expeditious cataloging and through circulation policies that facilitate shared use of those resources.
2.5 Provide access to, and facilitate the use of, information resources available beyond the campus.
2.6 Instruct faculty and students in the integrated use of information technology, search tools, and traditional print, microform, and audio-visual resources for teaching, learning, and research in both academic study and the practice of ministry.
2.7 Offer assistance in locating resources relevant to the research and study needs of library patrons.
2.8 Maintain an environment in the library that is conducive to individual study and reflection as well as to collaborative learning.
Consortia

Louisville Seminary students and employees may use reference services and borrow books from any library in the Kentuckiana Metroversity System by presenting an LPTS ID card. All Metroversity libraries are located in the Louisville metropolitan area. Printed information about the locations and hours of operation of these libraries is available at the Circulation Desk. You can also get additional information about Metroversity schools and their libraries on the Internet at http://metroversity.org/ . Here is a list of the institutions with their addresses:

• Bellarmine University, 2000 Norris Place, Louisville, KY 40205
• Indiana University Southeast, 4201 Grantline Road, New Albany, IN 47150
• Jefferson Community and Technical College, 109 E. Broadway, Louisville, KY 40202
• Jefferson Community and Technical College Southwest, 1000 Community College Drive, Louisville, KY 40272
• Southern Baptist Theological Seminary, 2825 Lexington Road, Louisville, KY 40280
• Spalding University, 851 S. Fourth Street, Louisville, KY 40202
• University of Louisville, 2301 S. Third Street, Louisville, KY 40208

The facilities and collections of the Louisville Free Public Library are also available to Louisville Seminary students and employees. More information about the public library system in Louisville can be found at http://www.lfpl.org .

Books borrowed from any Metroversity library or from the Louisville Free Public Library may be returned to the Circulation Desk at the Seminary library for return to the lending library by courier.
TEAM-A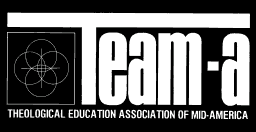 Theological Education Association of Mid-America (TEAM-A)
Louisville Seminary students and employees may also borrow books from libraries in the TEAM-A consortium. Member institutions with their addresses are:

• Asbury Theological Seminary, 204 North Lexington Avenue, Wilmore, KY 40390
• Lexington Theological Seminary, South Limestone Street, Lexington, KY 40506
• St. Meinrad School of Theology, 100 Hill Drive, St. Meinrad, IN 47577
• Southern Baptist Theological Seminary, 2825 Lexington Road, Louisville, KY 40280

Additional information about TEAM-A libraries can be found at http://www.eteama.org .
Special Collections
The Brainerd Lemon Ancient Pottery Collection
The Seminary is fortunate to own a large collection of ancient pottery. The existence of the collection of artifacts is largely due to Mr. Brainerd Lemon. Lemon was on the board of directors of the seminary (1923-1929) and president and owner of the Louisville jewelry firm, Lemon and Son, Inc. In 1929 Lemon purchased over 288 artifacts, largely Palestinian pottery, specifically for the Seminary. The collection has grown since Lemon's gift and now contains over 350 pieces.

A history of the collection was written by Dr. A.B.Rhodes in 1975. Dr. Rhodes served as the collection's curator during his tenure on the faculty of the Seminary.

The Lower Level of the library has a display area of five standing cases that are filled with part of that overall collection. Case 1 contains items that date from the time of Canaan to more than ten centuries later. It even includes a fake antiquity (1.12) that is made from fragments of authentic antique pottery.

Case 2 shows many examples of the pottery used. ca. 1750 B.C. for cooking and for storing water.

Case 3 centers on items that date from 1400 B.C. and includes a jug with a rare "chocolate-on-white" design (3.4).

Most of the artifacts in case 4 are from ca.1200 B.C. Note the so called "beer jug" on the first shelf (4.3) whose strainer kept the grain husks out of one's beer. Also note the design of the pilgrim flask at 4.4 which looks like a human face.

Most of the items in case 5 date from 800 B.C. and include several charming pottery figurines of animals (5.5) and an Egyptian jar.

The pottery collection is available for viewing when the library is open.

View more images of pieces in the collection .
Sharp Art Collection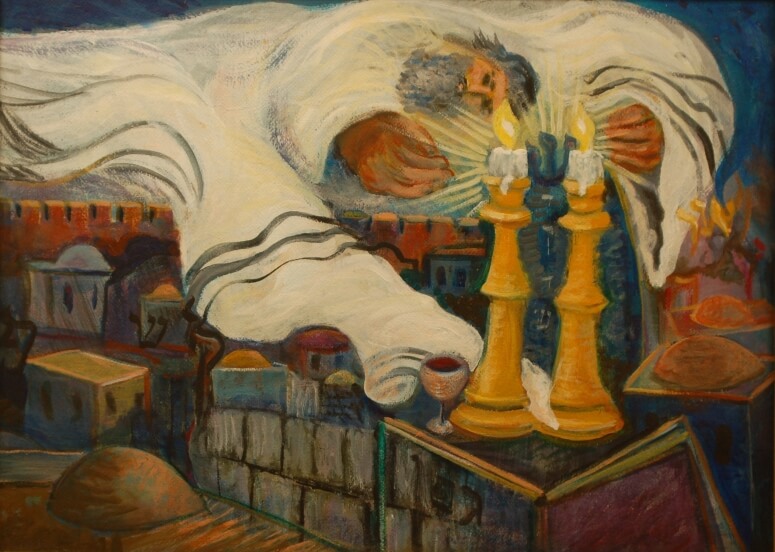 Seminary Archives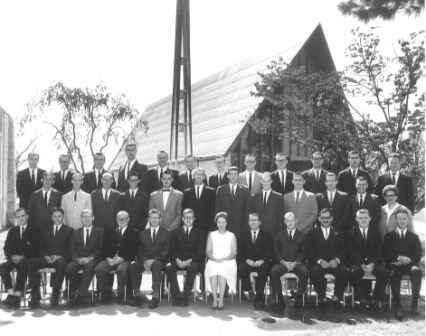 The Seminary archives is housed in the Library and is made up of materials related to the history of the Louisville Presbyterian Theological Seminary. Access to these materials is restricted. Inquiries about the collection should be directed to Angela Morris who oversees this archive.

This group of students who entered Louisville Seminary in the Fall of 1963, were the first to attend classes on the new Alta Vista Road campus. Set on 38 acres in the heart of Cherokee Park it was a dramatic change from the previous location at 109 East Broadway in the heart of downtown Louisville.

Enjoy the Fall 1963 issue of The Register titled "The Church Hath Built" which is a visual introduction to the new campus.

Click here for an archive of class photos.
Click here for information about the Grafton Trophy
Rare Books Collection
Certain rare, embrittled, or otherwise unique materials are housed in a closed climate-controlled environment in the library. These titles are included in the online catalog and are available for your use. Because many of these items are fragile or difficult to replace, the following rules govern their use:



To consult an item from the Special Collection, you must submit a written request at the Circulation Desk at least two business days in advance, indicating (a) the reason for the request and (b) the date on which you want to use the item. Forms for this purpose are available at the desk.
The use of any item from the Special Collection must be approved by the Head of Public Services, the Head of Technical Services, or the Library Director. If your request is approved, a librarian will retrieve the item for you.
Items from the Special Collection may be used only in the Reference Room.
Any special instructions of the librarian, such as the use of linen gloves in some cases, must be followed, or permission to use the material may be withdrawn.
Photocopying material from the Special Collection must be approved and performed by a librarian. Some items may be too fragile for photocopying.
Information Technology
IT Staff
Computer issues should be reported to RFX Technologies at support@lpts.edu. If it is an emergency, you can call RFX at 894-2292 or contact Marino during normal business hours.

Marino McDaniel, Computer Support Specialist, x292, or mmcdaniel@lpts.edu

Norm Hollabaugh, Multimedia Specialist, x290, or nhollabaugh@lpts.edu Norm also has responsibility for the Mail Room.
Guides
Computer Lab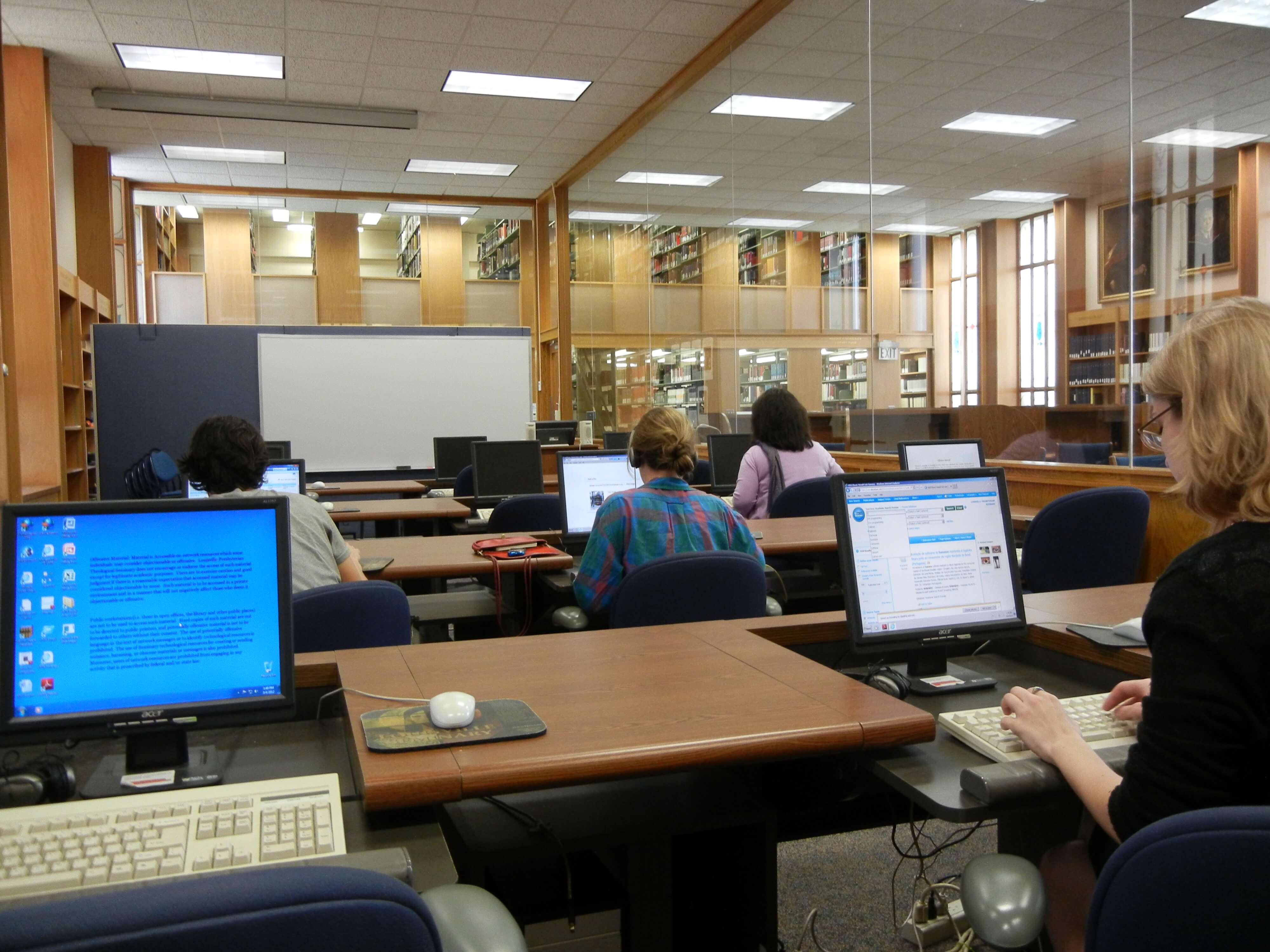 The Computer Lab, located in the Library Reference Room, has twelve PCs and one instructor PC. DVD/CD players are available on all computers. The Lab is open during Library hours, and is also used for bibliographic instruction and software training.

All Computers have:

Adobe Acrobat Reader
Bibleworks 10
Firefox
GenoPro
Internet Explorer
LPTS Bible Quizzes
Microsoft Office 2010 (Word, Excel, PowerPoint, and Publisher)
Morgan (the library catalog)
Access to databases to which the library subscribes

Some Computers have:

Anchor Bible Dictionary - computers #9, 12
Calvini Opera - computers #1, 3, 6, 9, 12
Christian Theology - computer #9
Labora - computer #7
Luther's Works - computers #4, 5 ,6
Reformation Reader - computer #8
Media Services
Fill out an online Reservation of Facilities form through Virtual EMS no more than one year and at least five working days in advance of your event.

Media Services does not provide equipment or service to events not sponsored by the Seminary or to persons outside the Seminary community.

Multimedia lectern equipment is operated by the sponsoring department. Lectern training is required for those who operate the equipment.

A slide projector, overhead projector, and projection screen are available in any room by noting the request on the Reservation of Facilities form.

Equipment listed anywhere as "available by request" is subject to approval by Media Services, 895-3411, ext 290.
Technologies Available by Facility
Caldwell Chapel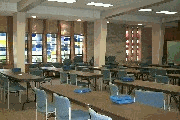 Maximum of three wired microphones, four wireless lapel microphones, three Personal PAs (assisted hearing), two wireless handheld microphones, CD recorder, five CD changer.
Fellowship Hall in Caldwell Chapel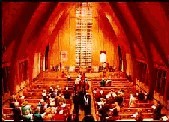 Permanently installed: Speakers, electronic screen, network connection, multimedia lectern. Contents of the multimedia lectern: Amplifier, Digital projector with remote, Five CD changer, Mixer, Network connection, Small moveable light, Tape deck (auto-reverse), DVD/VCR, Wireless lapel microphone, Wireless mouse
Nelson Hall 118, Nelson Hall 119, all Schlegel Hall classrooms, Hundley Hall in Gardencourt, and Grubbs and Ridings conference rooms in Laws Lodge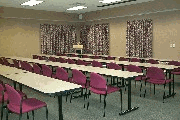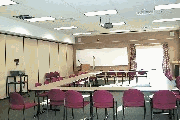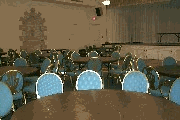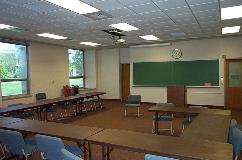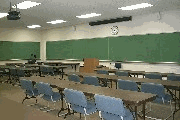 Permanently installed: Speakers, electronic screen, network connection, multimedia lectern. Contents of the multimedia lectern: Amplifier, Digital projector with remote, Five CD changer, Mixer, Network connection, Small moveable light, Tape deck (auto-reverse), DVD/VCR, Wireless lapel microphone, Wireless mouse.
Nelson Hall 10 and Boardroom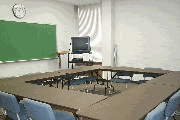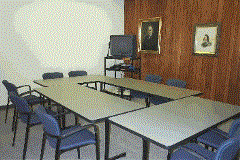 Permanently installed: Digital projector, screen, XGA high resolution monitor on cart, DVD/VCR (use only with monitor), network connection. For audio, use the monitor instead of the projector.
Gardencourt 206 and 209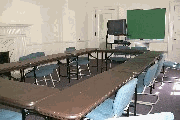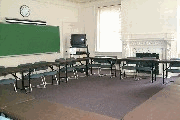 Permanently installed: Digital projector, screen, DVD/VCR, network connection. Adjust volume on wall-mounted speaker.
Winn Center Large Dining Room, Winn Center McAtee A & B Dining Rooms

Permanently installed: Public address system with inputs for microphones and speakers in three sections of Main Dining Room and McAtee Dining Rooms A and B, CD Changer, Cassette Player, Projection screen, Digital Projector (McAtee A)

Available by request on Reservation of Facilities form for Seminary-sponsored events: Maximum of three wired microphones with table-top or floor stands (one in each section of small dining room), Maximum of three wireless lapel microphones (one in each section or small dining room), DVD/VCR, Digital Projector (Large Dining Room)