Upcoming Events
February 6, 2020: Spring Convocation
11:30 a.m., Caldwell Chapel
Convocation Speaker: Rev. Justin Reed
All are welcome.
February 19-21, 2020: Black Church Studies Consultation
March 5-6, 2020: Louisville Seminary Exploratory Days
March 24, 2020: Misogynies in Postmodern Christianity
April 14, 2020: Grawemeyer Lecture
7:00 p.m., Caldwell Chapel
Featuring Grawemeyer Award Winner Stephen J. Patterson
All are welcome.
May 15, 2020: Baccalaureate Service
May 16, 2020: Commencement Exercises
Money Matters
Thanks to a grant provided by Indianapolis-based Lilly Endowment, Inc., Louisville Presbyterian Theological Seminary offers a series of workshops throughout the academic year designed to address economic and administrative challenges that face future ministers and faith leaders.

Details on Louisville Seminary's 2019-2020 Money Matters for Ministers Series are below.

Read more about Lilly Endowment, Inc.

For more information, contact Debra J. Mumford, Frank H. Caldwell Professor of Homiletics and Director of the Money Matters for Ministry Program, at (502) 992-5454 or dmumford@lpts.edu. To register for any of the seminars, contact Melisa Scarlott at mtscarlott@lpts.edu.
Upcoming Money Matters Seminars
Beginning September 11, Money Matters will partner with the Rev. Dr. Marion Miller and the good people of Wesley United Methodist Church in Jeffersonville, Indiana, to embark on a journey to financial freedom and accountability. Times of each of the seminars is from 6-8 p.m. Dinner will be served from 5:00 – 5:45 during the first six seminars (throughout the financial fast). The journey will start with a 21-day financial fast using Michelle Singletary's book, The 21-Day Financial Fast. Singletary encourages her readers to free themselves from the capitalistic trappings of debt and materialism by developing a monthly budget that helps them reach their financial goals.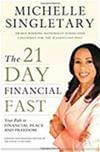 During the financial fast, participants are challenged to:

Not shop or use credit cards to purchase anything
Not buy anything that is not a necessity
Not go to the mall or retail stores to shop for clothes, shoes, jewelry, nonessential household items, I-tunes, Amazon, Wayfair, etc.
Not window shop
Not eat out at any restaurant, fast food or anywhere else
Not go out to the movies
Not purchase movies on Netflix, Hulu, Amazon Prime, etc.
Not buy gifts or gift cards (not pledge to buy gift after the fast)

The point of the fast is to begin to develop new spending and saving habits that they will use long after the fast has ended.

During the nine-month period, participants will develop and monitor progress on their personal budgets and gain deeper understandings of saving, investing (stocks, bonds, mutual funds), wills, trusts, power of attorney, managing credit card and student loan debt, and saving for retirement.

First-year students are required to participate in full twenty-one day financial fast or attend at least three seminars of their choice during the nine month period. All Louisville Seminary students are encouraged to participate.

Students can meet requirements for participating in the twenty–one day fast by:

Attending the 9/11, 9/18, and 10/9 seminars at Wesley, UMC in Jeffersonville, Indiana
Making a personal budget (guided by instruction on 9/11 and 9/18
Following the guidance of the Singletary book and keeping a journal of their spending during the fast (journals and books will be provided)
Participating in discussion about fast on 10/9 @ Wesley
Signing up for participation with Melisa Scarlott by Thursday, September 5

First-year students who cannot participate in the fast can attend at least three other seminars of their choice during the nine-months of the program.

Address for Wesley United Methodist Church (Wesley @ the bridge)
1201 Thomas V. Bryant Drive
Jeffersonville, IN 47130
Senior Pastor: Rev. Dr. Marion Miller
Upcoming Money Matters Seminars
Life Insurance
February 26, 2020
Presented by Jim Tharp
Prudential Insurance

Wills/Trusts/Power of Attorney/Guardianship
March 11, 2020
Presented by Anita Harden
Anita A. Harden Law Office, LLC